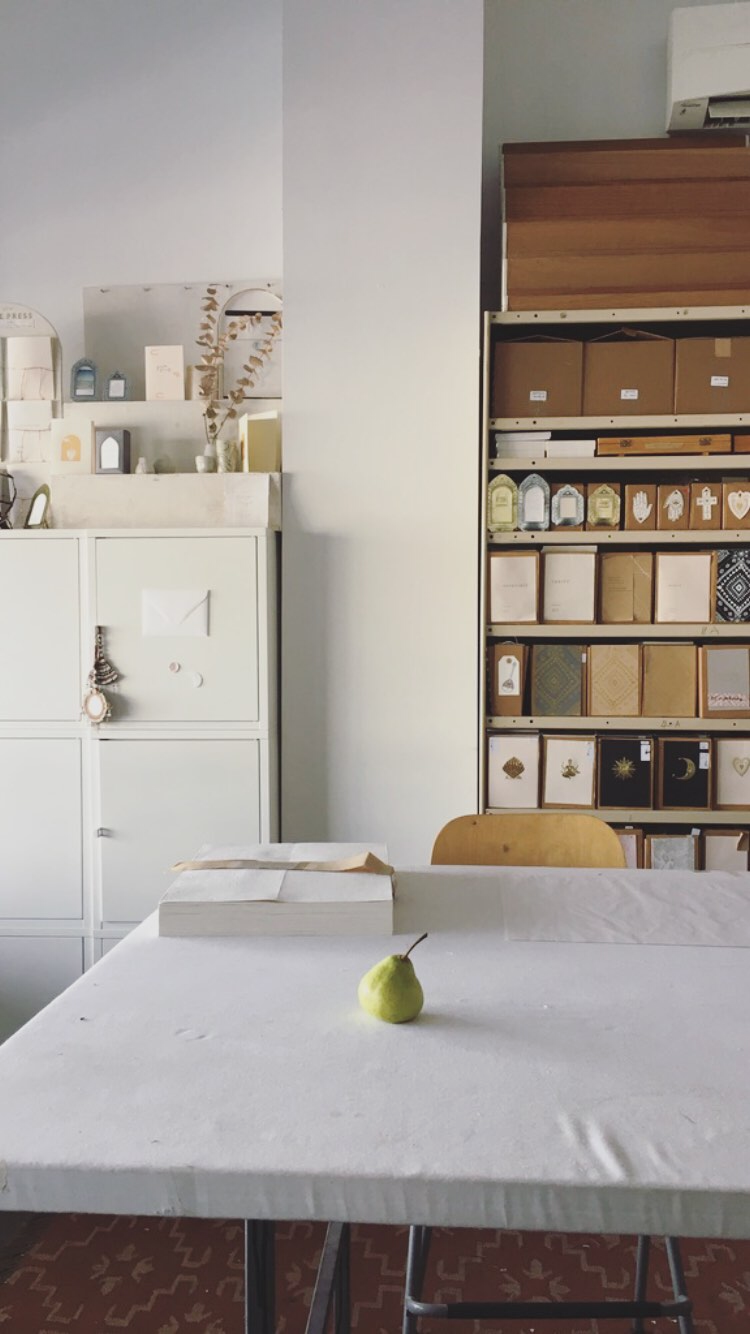 A little throw back to the West Perth studios we had and loved, and the wonderful people we shared the journey with. 
Back in 2015 we signed on a 6 month lease with this huge warehouse - a total gamble when you have a letterpress machine that's nearly a tonne. If only we knew that we would end up staying so long, we would have invested in some climate control! Maybe it was the slight nervousness every 6 months that this could be our last - or the collaborative energy of the amazing people we shared the space with - but we did do some really great things in these walls. Markets, open days, studio sales, workshops, movie night with gal pals, exhibitions - I had a long table dinner with friends for my 30th Birthday too, under the fairy lights.
The Little Press went into this studio ambitiously and with a very carefree optimism - before it, we had small studio spaces within art based settings, and our passion was mostly for long winded travels to far away lands. Cowle st held the space for an enormous amount of growth for the The Little Press, through an even more enormous amount of hard work.
So many good times and so much creativity. So many late nights - blood sweat and tears. Many tears.
The short term lease finally came to an end in June 2020, so we had started making plans for the move, which is never easy with a printing press that doesn't fit through a normal doorway. As serendipity would have it, the wonderful Bec from Fox & Rabbit had decided to create a beautiful co-working space from her warehouse space, called The Sapling, which was only one block down from Cowle st!
We spent two lovely years at The Sapling studio surrounded by inspiring, women lead creative businesses, (and a couple of lovely men too!). There is nothing like having the camaraderie and support of other creatives who see day to day the love and passion and sometimes tears that go into it all - the gratitude of someone picking you up a coffee on their journey to the outside world, the sweet moments of walking together to a local cafe, and the joy of having someone who is excited to celebrate your big and small wins with! 
Cute photos of the team at the end of this trip down memory lane images!
West Perth era, you were so memorable, with gratitude for it all, Emily.
Photo credits:
Studio circa 2015: Rhianna May Photography
Pretty workshops, Night Markets & Emily's 30th birthday dinner: Kirsty Russell Photography
Studio circa 2019: Sabrina Edel Photography
The Sapling Studio circa 2020 CoCo Studio, Perth Open Photo Booth